Thanks for joining us for the 2019 Arizona Good Food Expo!

We look forward to seeing you again at next year's event.
Questions about the next Arizona Good Food Expo? Email us.
2019 PHOTO GALLERY
A wholesale showcase of Arizona's local farms & food artisans.
Join for a day filled with samples of Arizona's finest locally grown and produced food, industry tips and tricks for sourcing locally, and plenty of opportunities to network and build relationships with the people behind the state's local food.
2019 Agenda
Arizona Good Food EXPO
11:00 am - 3:00 pm

Featured Speaker
Charleen Badman (2019 James Beard Award Winner)
11:00 am

"Recipes for Success: Stories of Local Sourcing" Panel
1:30 pm

Reception
3:30 pm - 5:00 pm
After the expo, join us for the Local Foods Reception across the resort at Different Pointe of View. You will enjoy a menu crafted by Chef Anthony DeMuro using local ingredients from this year's exhibitors.
As chef and co-owner of the award-winning FnB Restaurant in Scottsdale, Charleen Badman is one of Arizona's most celebrated chefs. On May 6, 2019, Charleen won the James Beard Foundation award for Best Chef of the Southwest. Prior to winning the coveted award, Charleen had been a semi-finalist for six years in a row. Known in Arizona as the "veggie whisperer," Charleen has a knack for coaxing the very best flavor out of locally grown vegetables, which are featured prominently – although not exclusively – on the FnB menu. Her unfussy, yet boldly flavored menu changes seasonally, and sometimes even week-to-week with tweaks based on what's currently available from local farmers.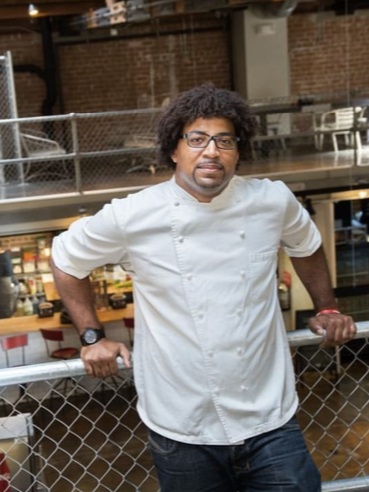 Stephen Jones has amassed a wealth of culinary expertise in his 39 years, which is not surprising since he comes from a family of master chefs and cooks. After training at Le Cordon Bleu in Pasadena, he served as Executive Sous Chef of Mk Restaurant in Chicago, Chef de Cuisine at Tarbell's, Executive Chef at Latilla in Scottsdale, and opening chef at Blue Hound Kitchen + Cocktails. In 2015 Chef Jones went to work on his own projects at Desoto Central Market. Chef Jones brought national spotlight to the mulit-use space, but it was his 8 seat, counter-only the larder + the delta that became a fan favorite in the local community. With momentum to have a brick & mortar, Chef Jones opened the larder + the delta at Portland on the Park in 2018.
General Manager Todd Hanley, a passionate leader who is deeply committed to his community, and has a successful history of guiding Hotel Congress (the heart of downtown Tucson for 100 years) and sister restaurant Maynards Market & Kitchen, to new heights through expanded and new offerings. Todd graduated from Western Michigan University and had a career in the nonprofit world before marrying into the Oseran family, and moving to Tucson to operate the family business. His passion for downtown is evident in the long-lasting partnerships and the businesses' investment in the community through an annual grant program donating tens of thousands of dollars to non-profits and causes in the downtown community.
Chef John is an Arizona native, born of Lebanese/Italian descent. His upbringing helped forge his love of food, as most family gatherings were centered around the dining room table. After studying Culinary Arts at Scottsdale Community College, he gained professional experience as Executive Sous Chef at Different Pointe of View, Chef de Cuisine at Vela in San Diego, and Executive Chef of Capital Canyon Club. He and his wife Cassandra then created SENSES, a unique "pop-up" restaurant concept. They hosted popular "Restaurant Takeovers" at BiGA, a local hotspot that focused on a home-style fare. BiGA owners decided Chef John and Cassandra were the ones they wanted to sell their business to and BiGA by SENSES was born.
Shanti Rade owns and operates Whipstone Farm with her husband in Paulden, Arizona just north of Prescott. They have a mixed vegetable and cut-flower operation and are going on 20 years in business. Starting with just a 1/4 acre plot in their backyard and selling door-to-door around their neighborhood, they have grown their business steadily over the years. They currently have 18 acres in production, with about 12 seasonal employees (not including their 3 kids, who sort of help out, but not really). They have a modified year round growing season and sell at farmers markets, through their own CSA program, to several multi-farm CSA's, and wholesale to local restaurants, grocery and florists.
Tamara Stanger is the executive chef of Cotton & Copper, formerly Helio Basin Brewing. She has worked in kitchens for over 23 years, 17 in Arizona at various local diners and gastropubs across the valley. Her love of the desert have defined the way she crafts her plates, drawing focus on indigenous ingredients, ethically foraging seasonal vegetation, and showcasing game meats. She emphasizes heavily on the relationship between food and drink, which she exercises at Cotton & Copper. One of the most rewarding aspects is the opportunity to work with local farms, including Ramona Farms, Crooked Sky Farm, Brother Nature, Abby Lee, Symbiotic, McClendon, and so many countless other amazing Arizona farm ingredients.
Thank you to our 2019 sponsors for investing in a strong local food economy!